Jul 11, 2020
---
The 5 Advantages of an effective ABC Analysis for inventory management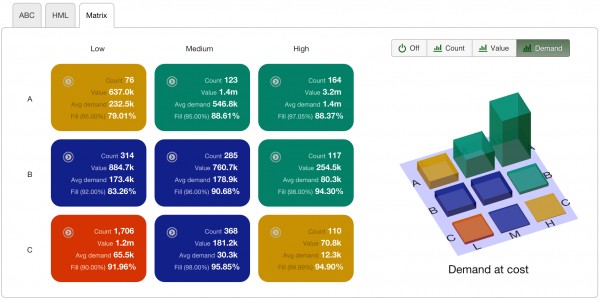 In the land of inventory, not all things are equal, and each stock item behaves differently. Determining the difference and classifying these accordingly is the starting point of any successful inventory management system. Let's first define what an ABC analysis is.
The ABC analysis is a criterion that is based on the Pareto principle - the 80/20 rule whereby 20% of your items give you 80% of your sales. A = highest value, B = medium value and C = least value. However, using this analysis in isolation has its downfalls. A high-value, low volume item like a car engine is planned and managed in your inventory system far different from that of a low-value, high volume items like nuts and bolts, even if the annual turnover is the same.
Overlaying this with another set of criteria, for example, the sales velocity of each item where H = high, M= medium, and L - low, will make your classifications that much more precise. In essence, an AH item is a high-value, high-velocity item. In contrast, a CL item is a low-value, low-velocity item.
For many companies, the lack of inventory classification makes the challenge of managing inventory effectively almost impossible. ABC classification is the foundation of any successful inventory management solution and allows you to base your inventory policies and procedures around them.
The below infographic shows the 5 key benefits that you will derive from effective ABC classification.
For your convenience you can download this infographic here:
Classifying inventory was a laborious process for US - based Aurora Lighting until they discovered NETSTOCK. Download their case study here to get insights into their inventory journey.
---
Written by Barry Kukkuk
In 2010 Barry began his journey with NETSTOCK. His enthusiasm for Inventory Management and his strong belief in "all things Cloud" collided resulting in the release of the Inventory Management solution - NETSTOCK. Barry is the CTO at NETSTOCK, where he is responsible for all customer-facing technologies and systems that keep thousands of NETSTOCK customer instances working correctly.