Jan 23, 2019
---
Inventory visibility is the advantage you need to grow your business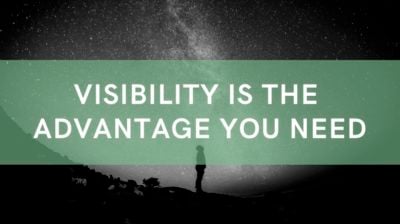 Getting the most out of your investment in inventory is daily issue for inventory-based businesses of all sizes. The increasing complexity of supply chains means your inventory team is likely struggling to understand what's really going on and what problems are on the horizon. Why is this such a persistent and common stumbling block?
It comes down to one word: visibility.
For most manufacturers, distributors, and retailers, the problem is limited inventory visibility due to an inefficient setup. Usually, we see some combination of an ERP application with an inventory spreadsheet. These tools do not provide visibility into your inventory problems; they typically only help you keep an eye on your levels and not much else.
Gaining visibility into your inventory is all about getting the right tool to provide you with the KPIs and analytics you need. From there, you can identify the biggest problem areas: surplus orders on these items, looming stock-outs on those items, and so on. Once you know where the problems are, you can actually address them, as opposed to fighting fires and fixing problems in an ad hoc manner.
And here's the key: fewer inventory problems = more profit. It's really that simple. When you can focus on the most costly issues, you put yourself in the driver's seat to make important changes that allow you to reduce your excess stock while improving your fill rates. You'll make smarter, more efficient orders and you'll save time in the process.
Meanwhile, most of your competitors are in the dark. According to some industry-related studies, nearly two-thirds of businesses don't use analytics to manage their inventory. Think about what it would mean if you do implement analytics that give you inventory visibility while your competitors don't. That's a major competitive advantage. While your competitors hurt their own bottom lines with substandard inventory practices, you can get a leg up quite easily.
That could make a huge difference in the continued growth of your company as you take market share away from your competition. All because you have inventory visibility and they don't.
It's actually quite easy to establish KPIs that create visibility and enable a more profitable warehouse. It simply requires implementing the correct tool for the job.
The team at NETSTOCK has decades of supply chain experience that they funnelled into the latest advances in cloud computing to create an application that focuses your attention on the most important issues in your inventory so you can create a warehouse that operates at peak efficiency. No more troves of working capital stuck on your shelves gathering dust.
How does NETSTOCK do it? It starts with the dashboard. Learn more about how NETSTOCK arms you with the tools, KPIs, and forecasts you need to drive more profit from your inventory. Here's a 3-minute overview:
---
Written by Craig de Kock
Craig comes from an engineering background, receiving his degree from the University of Pretoria in the early '90s. His experience in supply chain started in 1992, where he joined a team developing ERP and logistics solutions for local organizations in South Africa. Focusing in supply chain, Craig moved to a specialist supply chain business in the early 90's and moved through the ranks to eventually end up managing a team of consultants on various supply chain projects in SA. Craig joined Barloworld logistics as General Manager of product development and was responsible for the development, testing, and international rollout of their inventory optimization product. Craig later expanded his talents and joined a team to manage IT infrastructure, IT Projects, Warehousing, Operations and Supply chain in a cellular business as the COO and later CIO. In 2011 Craig went back to his supply chain roots and joined cloud-based Inventory Management company NETSTOCK. He began his journey at NETSTOCK, building the business from the ground up. Today Craig is President for NETSTOCK in the USA and CIO for the group. Craig focuses on NETSTOCK customers, empowering his team to make sure they have the right systems and processes in place to deliver a superior customer experience.